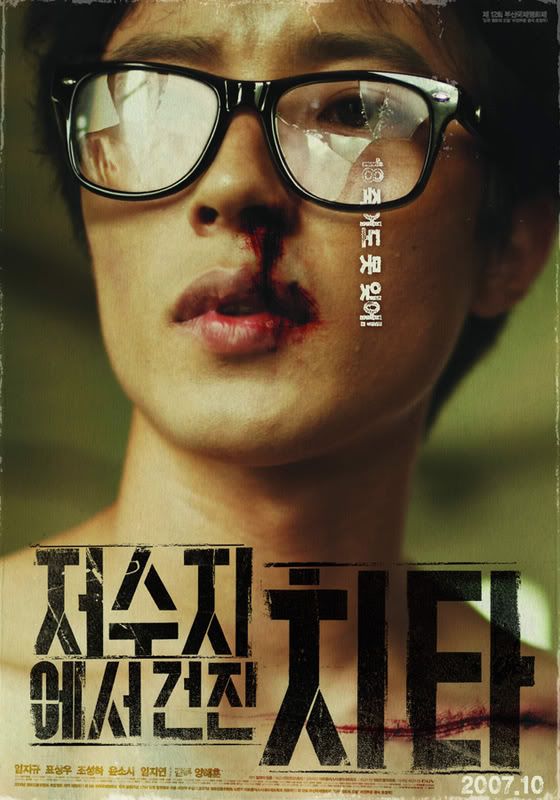 o filme chama-se: Whos That Knocking At My Door (2007) e ainda não o vi mas depois de ver uma das melhores capas dos ultimos tempos, fiquei com vontade de ver um "emo kid" a levar na tromba hahaha...
Vou fazer copia do meu original através do que circula ai na net.


Sinopse: "In this offbeat thriller from South Korea, Je-hwi (Im Ji-gyu) is a reclusive misfit who unexpectedly gains a girlfriend when he saves pretty but apprehensive Jang-hui (Yun So-si) from the impact of a falling couch, though she's clearly more attached to him than he is to her. One day, Je-hwi unexpectedly meets Pyo (Pyo Sang-u) and Rom (Im Ji-yeon), who he knew in high school. Pyo and Rom are happy to see Je-hwi and offer to take him and Jang-hui out for dinner, but Je-hwi remembers the couple as bullies who treated him with disrespect and while he cheerfully accepts their offer, he has revenge on his mind and becomes partners with delusional Choi (Jo Seong-ha) in a bid to cut them down to size. Je-hwi's scheme quickly turns violent, leading to a battle of both wits and weapons between Je-hwi, Pyo and Choi. Ju-su-ji-e-seon geon-jim chi-ta (aka Who's That Knocking At My Door? was the first feature film from writer and director Yang Hae-hoon "
procurem: Whos.That.Knocking.At.My.Door.2007.DVDRip.XviD-LAJ